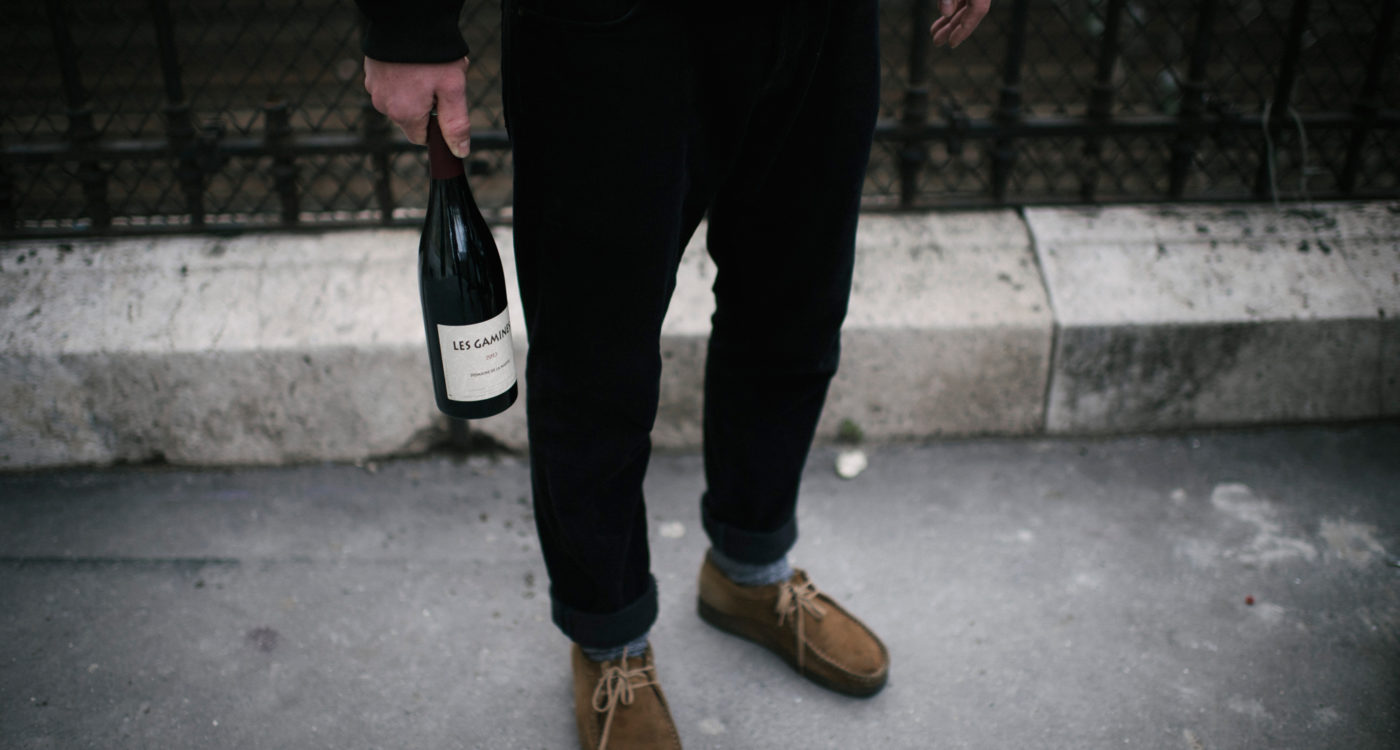 Les Gamines X Un Grec
20 juillet 2017
Photos: Benoit Guenot
Text: Thibault Allache
– T'as pris quoi ?
– Sauce blanche, valeur sûre.
Je suis avec M et S, deux potes de boulot que j'essaye tant bien que mal d'initier à l'art de la dégustation et aux mystères des accords mets-vins. Il est 17h, comme souvent on a sauté le déjeuner, mais j'ai dégoté cette petite bouteille de rouge : Les Gamines (domaine de la Marfée) pour nous concocter un goûter-apéro-dégustation. Toute l'après-midi j'ai gambergé pour trouver à quoi l'associer : un Lomo ibérique belotta ? Un camembert rôti aux noix du Périgord ? Le tout sur des tranches épaisses de pain au levin… p***** ça va être génial.
On sort tous les trois du bureau, je dégaine une appli à la recherche de l'épicerie la plus proche pour leur préparer une planche du tonnerre et sublimer ce vin languedocien… Inutile. Je lève les yeux de mon portable : je marche seul. J'ai perdu mes disciples quelques mètres en amont devant l'Istanbul, rue des Batignolles. Je comprends alors que toutes les planches du monde ne pourront les dissuader de commander un de leurs kebabs de folie. Ce n'est pas vraiment ce que j'avais en tête mais après tout, ça peut le faire, ces vins du Sud s'associent plutôt bien avec les viandes grillées.
Les pros du food-pairing vous diront qu'il y a 3 notions de base à maîtriser pour créer un accord qui roule : les accents, les liens, les contrastes.
– Tu préfères quoi toi, kebab-Coca ou kebab-Gamines ?
* rire gras, la bouche pleine *
– Haha, franchement je sais pas. Coca c'est un classique, mais là, le vin avec la sauce blanche, c'est une tuerie.
Ça c'est un accent : des saveurs affinitaires se complètent et intensifient le goût d'un ingrédient ou de tout un plat. Ici les notes de fruits rouges, amenées par l'assemblages syrah-grenache (40%-10%) se marient très bien à la sauce blanche à base de yaourt grec, de citron et d'herbes de Provence.
Les accents peuvent aussi se faire en jouant sur les intensités, c'est à dire manger un plat intense (/peu intense) en bouche, avec un vin puissant (/léger). Comme un fondant au chocolat noir qu'on déguste avec un bordeaux costaud.
– Tu vois j'ai l'impression qu'avec le vin je sens beaucoup plus le goût de la viande.
– C'est pas faux.
Ce rouge est fait à 50% de mourvèdre, un cépage qui donne au vin un côté rustiques et des notes épicées. Forcément avec de la viande de veau ayant mariné dans les épices, comme celle de l'Istanbul, c'est canon : là on parle de lien, on assemble des saveurs identiques afin de les amplifier.
Si vous voulez encore plus vous faire mousser à l'apéro et en mettre plein les papilles à vos potes ou votre prochain rdv Tinder, sachez qu'on peut aussi créer des liens de textures ou de températures. Au risque d'en décevoir plus d'un(e), prendre un grec tout chaud et le boire avec un Coca qui sort du frigo n'est pas la meilleure option : le Coca pétillant et frais, tue toutes formes de saveurs en bouche, mais le vin, à température ambiante (environ 17°C pour une dégustation optimale) aide le plat à envoyer tout ce qu'il a. Donc normal qu'ils kiffent leur kebab.
Le dernier point à connaitre c'est le contraste. Le nom est relativement explicite mais pour ceux qui rament un peu, ça consiste à associer des goûts, des textures, des arômes totalement différents pour créer un twist en bouche. Exemple : une fondue savoyarde, onctueuse, grasse, chaude, se mange avec un vin de Seyselle ou un Apremont, des vins ultra secs, acides et frais.
Maintenant que vous savez tout, pensez-y quand vous mangerez votre prochain kebab. Enfin si c'est à 4h du matin en sortie de boîte, ne gâchez pas le travaille des vignerons. Prenez un Coca.
-What did you get ?
-White sauce, you can't go wrong.
I'm with M and S, two friends from work I'm trying my best to introduce to the art of the gourmet and to the mysteries of what wine goes well with what.
It's 5 P.M, and like most days we've skipped lunch, but I've managed to get my hands on a little red number : a botte of Les Gamines, or 'The Kids' (la Marfée Domain), that I plan on using to rustle us up a snack-slash-tasting session-slash aperitif. All afternoon I've been mulling over what we might eat with it : some Iberian belotta lomo ? A camembert roasted with Périgord walnuts ? All of it served with thick slices of sourdough bread… f*** yeah, this is going to be amazing.
The three of us leave the office. I crack out an app' to help me find the closest corner-shop so I can buy my way to the mother of all Smorgas-board, the only one with which to do justice to the sublime flavours of this Languedoc wine. But as I raise my eyes from the screen, I find I'm walking alone. I've lost my disciples to the Istanbul restaurant, a few metres ahead on the Batignolles road. It's clear to me now that all the Smorgas-boards in the world won't dissuade these two from ordering their holiest of holies…
A kebab.
Well, it wasn't what I'd intended, but after all, why not : southern wines do go rather well with grilled meats.
The greats of food-pairing will tell you that there are three basic notions you need to master to create a happy marriage between fork and bottle : accents, link-notes and contrasts.
'What do you prefer, kebab-and-coke or kebab-and-Gamines ?'
*belly-laughs with his mouth full*
'Honestly, I don't know. I mean, Coke is a classic, but yeah, this wine with this white sauce is killer.'
This, as it happens, is an accent. The affinities between two flavours mean that these complete each other and intensify the taste of an ingredient, or of an entire dish.
In this case the berry notes, brought about by the syrah-grenache assembly (40% / 10%), go hand in hand with the greek-yogurt, lemon and herbes de provences based white sauce.
Accents can also be created by playing on different intensities, that is to say eating a powerfully flavoured dish with a light wine, or vice versa. Like eating a black chocolate fondant whilst sipping a strong Bordeaux.
'You see, with the wine I get the impression that I can taste the meat a lot more.'
'True.'
This red wine is made with 50% of mourvèdre grapes, which give the wine a rustic aspect with spicy notes. So obviously with veal that's been marinated in spices, like it has been at the Istanbul, it's da bomb.
And this, my friends, is what you call a link-note: assembling identical flavours in order to amplify them.
If you want to serve an even snazzier supper and wring gasps and gulps of gourmandise from your friends (or your next Tinder date), you might like to know that link-notes can also be created using textures or temperatures.
This may come as a shock, but combining a sizzling kebab with Coke straight from the fridge really isn't the best idea : the cold and fizzy soda anaesthesises the tongue, whereas wine served at room temperature (about 17°C for best results) really brings out all the savours of a dish. So it's no wonder my friends'kebabs tasted wicked.
Last but not least comes contrast. The name says it all , but for those of you who are having trouble keeping up, contrast means pairing up flavours, textures, aromas, that are radically different from one another, to give the tastebuds an unpected twist. For example, a thick, voluptuous, steaming Savoyarde cheese fondue goes rather well with a botte of Seyselles or Apremont, ultra dry wines with a fresh and acidic kick.
So next time you're craving a kebab and wondering how you can vamp it up, remember those three magic words : accents, link-notes and contrasts. Although if it's 4 in the morning and you've just staggered out of a night-club, you're probably better off just having a Coke.