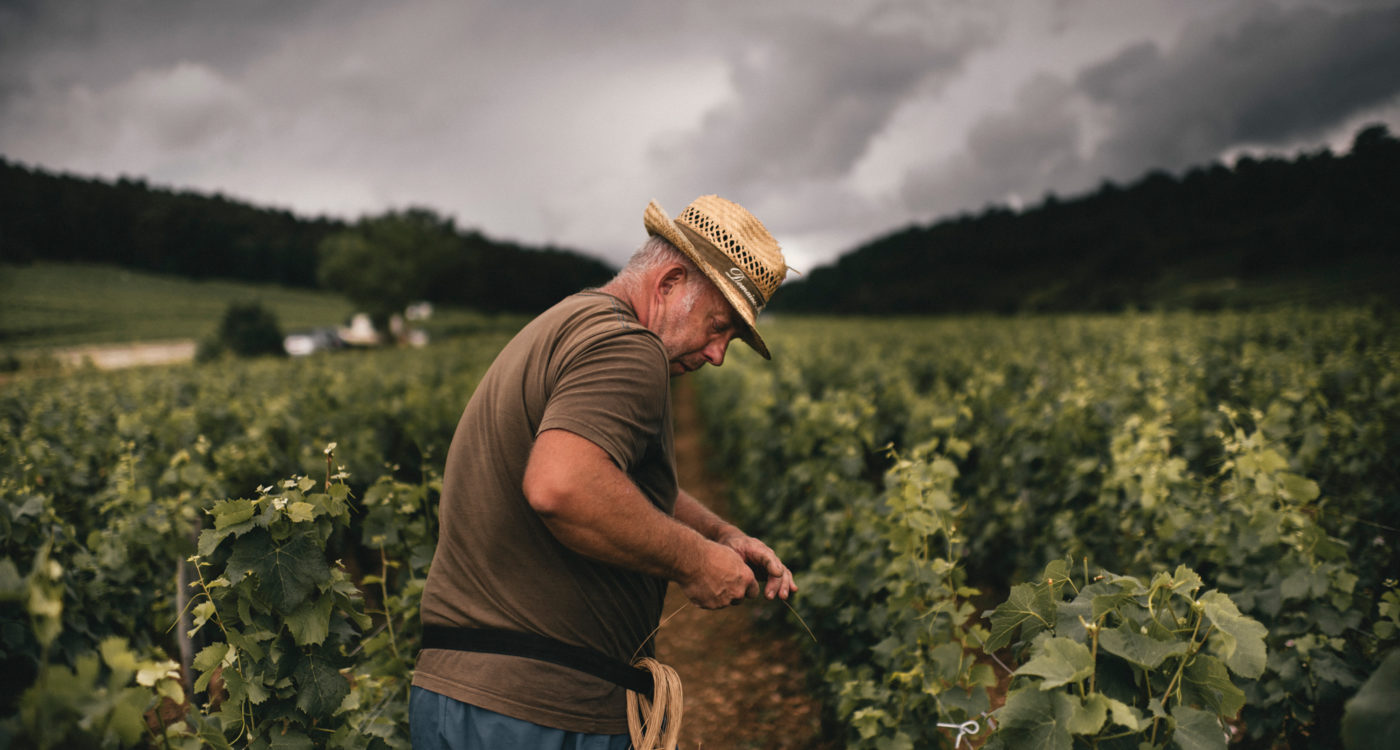 Domaine Méo Camuzet
23 juillet 2017
Photos: Benoit Guenot
Text: Palmyre d'Anthenaïse
Richebourg, chapeaux de paille et grand ciel bleu
Février 2016, la brume.
C'est non loin d'une voie de chemin de fer que je retrouve Thierry, Thomas, Lionel, Franck et Aurélien, affairés à couper la vigne en vu du printemps. L'ambiance y est glaciale. Pas du coté des hommes qui ont rapidement les mots justes pour réveiller, dérider et réchauffer tout le monde, mais du coté du ciel. Brouillard épais et pluie à volonté, les escargots sont de sortie, servez vous ! Au domaine, c'est Marie line à la mise en bouteille. Ça pulse, la cadence est rapide. On croirait "les Temps Modernes" de Chaplin. Premiers pas, premières marques. Mettre des mots et des visages sur ces vins magiques, pures expressions de climats mythiques.
Mai 2016, Fanny.
Demain c'est mon anniversaire. 44 ans. Déjà. J'étais où à 20 ans ? Pas ici c'est sûr, mais je suis bien ici. Ma fille est avec moi. Elle a rejoint le domaine il y a deux ans. Un peu comme moi, par hasard. On se fait un truc demain, rien que nous, pour une fois. J'ai demandé au domaine, si je pouvais acheter une bouteille de son année de naissance. Pas la mienne, ça remonte trop. Ils m'ont dit oui. Ils disent souvent oui. Il faut dire qu'on le mérite. Toute l'année dans les vignes. Pluie. Vent. Gel. Canicule. Il Faut bien que le vin se fasse. Tant qu'il y a des gens qui achètent. Moi  j'aime pas ça. Je bois jamais. On a bien des bouteilles à Noël mais je les donne à mon frère. Lui il sait quoi en faire. Une fois, j'ai vendu une bouteille, j'étais pas fière, mais je n'avais pas le choix. Tu as vu le prix du vin maintenant. Je vois bien les regards, ils pensent que ça va directement dans nos poches.
Bientôt le printemps. Le café dehors. J'aime ce moment. 9h tout pile. Je peux te dire que ça galope dans les rangs. Bien sûr on parle des tâches à faire, mais pas que. On avait des terrines et du fromage avant. Mais certains ont fait trop de manières, alors ils ont dit stop.
J'espère qu'on ne viendra pas à la vigne samedi. Il faut traiter en urgence à cause de la pluie. Le mildiou attaque fort cette année. On est pas tous de garde, c'est à tour de rôle. Déjà que l'on a trois semaines de retard sur 2015. Tant que c'est pas comme 2013, quelle année! Et encore, nous, on s'en sort bien. Pas comme à Beaune. Les pauvres. Certains ne vont pas se relever.
Je finis souvent mon rang devant les autres. J'ai le geste sûr. Pourtant je n'y connaissais pas grand chose à la vigne moi. Je revenais de saison à Val d'Isère. Je n'avais rien prévu et surtout pas de rester. Et voilà, ça fait 24 ans. Alors depuis le temps on peut dire que je connais: Coupage, évasivage, relevage, soutirage, mise en bouteille. Ils parlent de Biodynamie maintenant. On verra bien.
Juillet 2016, chapeaux de paille.
Enfin un morceaux de ciel bleu. Une bouffée d'air. Un son d'Aretha Franklin dans les oreilles. " Respect". Ils auront tout vu. Le gel, la grêle, les pluies. Les petites, toutes douces, bruine, les grosses qui te trempent des pieds à la tête en une seconde, les battantes, les glaciales, les orageuses. Misère. Pour l'heure je suis dans les 1 er cru avec David et toute l'équipe pour l'activité "relevage et accolage". Le fond de l'air est électrique. La chaleur étouffante.
Alain, 27 septembre 2016.
15 minutes que je l'attends. Il se fout de moi ou quoi ? Je lui trouve un job et il vient pas. Les autres s'impatientent. Le téléphone sonne. 07 72 65 21 97. Je ne connais pas. Ça doit être lui. Il est 6H50, on est a mi-chemin, on est sept dans la voiture. Je déposerai mon cousin et son amie à Morey. Puis trois autres personnes à Chambolles. Rendez-vous ce soir au rond point pour le retour sur Dijon. On file à Vosne Romanée, il est 7h, on embauche à 7h. C'est ça d'avoir la voiture. Je suis pas un taxi. Grosse journée dans les Echezeaux. C'est rude. Mais on est tranquille. Le soleil est là. L'année partait mal, mais ce mois de Septembre est bon. Chaque année on retrouve les mêmes. On doit être quarante cinq rien qu'ici, chez Méo. La communauté Congolaise de Dijon. Ça fait 25 ans que j'y fais les vendanges. Je les connais bien, Jean Nicolas, Christian, Thierry, Roger, Marie Line. On se chambre pas mal. C'est des anciens. Ils tiennent encore debout, comme nous. Les autres domaines regardent mal parfois dans les rangs. Il faut dire qu'on fait du boucan. Mais comment ?! Tu te tues le dos toute la journée et tu n'aurais pas le droit de danser ? Ils sont jaloux dans les autres domaines. Ils ont tous des écouteurs. Nous on a des haut-parleurs ! Mais ça bosse dur. Tu coupes, tu ramasses. Tu coupes, tu ramasses.. Toute la journée.
Dans 20 minutes c'est midi, le banquet ! On se rejoint tous, ça parle beaucoup, ça drague un peu. Avant de reprendre, on te transforme la place de la mairie en salle de concert. Ça plait pas à tout le monde. Mais ici, au domaine, c'est chez nous.
Roger, Marie line, Lionel, David, Franck, Thomas, Stéphane, Christian, Jean Nicolas, Françoise, Véronique, Thierry ainsi que Pierre et Alexis.
Merci.
February 2016. Misty.
Not far from a railway line I find Thierry, Thomas, Lionel, Frank and Aurélien, busy pruning vines in time for spring.
The atmosphere is icy. Not because of the men, who quickly find the right words to cheer, lighten and warm everyone up, but because of the sky. The thick fog is everywhere and it's raining cats and dogs, or rather, slugs and snails!  Back at the domain, it's Marie Line on bottling duty. The pace is fast 'n' swinging.  It feels like a scene from Chaplin's « Modern Times ». First steps, first brands. Putting words and faces on these magical wines, pure incarnations of mythical climates.
May 2016, Fanny.

Tomorrow's my birthday. 44 years old. Already. I wonder where I was when I was 20? Not here, that's for sure, but here's where I am now. My daughter's with me. She joined the domain two years ago. By chance, a bit like me. Tomorrow we're doing something just the two of us, for once. I asked the domain if I could buy a bottle of wine from the year of her birth. Not my birth, that was too long ago. They said yes. They often say yes. We deserve it though. Day in day out amongst the vines, come rain, wind, frost or heat wave. We have to get the wine made. As long as people keep buying it, we have to keep making it. I don't like wine. I never drink. We get bottles for Christmas but I give them to my brother. He knows what to do with them. Once, I sold a bottle, I wasn't proud of it, but I had no choice. Have you seen the price of wine lately? I see how they look at us; they think the money goes straight into our pockets.
It'll be Spring soon. We get to drink our coffee outside. I like those moments. 9 on the dot. It's all go in the lines. Of course we talk of what needs to be done, but not only. We used to get cheese and terrines. But some of us got a bit carried away, so they put a stop to it. I hope no one will come to see the vines on Saturday. They need urgent treatment because of the rain. Mildew is hitting hard this year. We're not all on duty, we take it in turns. We're already three weeks late compared with 2015. Oh well, as long as it's not like 2013, what a year! Although we managed to get through it without too much damage. Not like Beaune. Those poor people. Some of them won't get back up again. I often finish my line before the others. I have a sure hand. Which is suprising when you think that I'd never really known anything about vines. I'd come back from a spell of work in the Val d'Isère. I hadn't planned anything much, and certainly not on staying. And there you go, it's been 24 years. So the least you can say is that by now I know what I'm doing: pruning the fruitless buds, trellising, racking and bottling the wines. Now they're talking of biodynamics. We'll have to wait and see.
July 2016, straw hats.
At last, a piece of blue sky. A breath of air.  Aretha Franklin pulsing through the air. "Respect". They've been through it all. Frost, hail, and all the different types of rain. From light drizzle to huge downpours that drench you from head to foot in less than a second. Freezing rain. Driving rain. Stormy showers. Sheer misery. But for now the air is electric, the heat is stifling, and I'm all about the premier cru with David and his team as we get busy with the trellising and accolage.
Alain, 27 September, 2016

15 minutes I've been waiting. Is he taking the piss? I go to the trouble of finding him a job and he doesn't even turn up. The others are getting impatient. The phone rings. 07 72 65 21 97. Don't recognize the number. Must be him. It's 6.50 AM, we're half-way there and there are seven of us in the ar. I'm dropping my cousin and his friends off at Morey. Then three other people at Chambolles. We meet up at the roundabout to go back up to Dijon. We're rushing to Vosne Romanée; it's 7.00 AM, we start hiring at 7.00 AM. That's what you get for having a car. I'm not a taxi. There's a long day waiting for me in the Echezeaux. Harsh. But things aren't so bad. The sun's out. The year didn't get off to a good start, but the month of September has. Every year the same old faces turn up again. There must be at least 45 of us, and that's just here, at Meo's. The Congolese community of Dijon. I've been harvesting grapes here for the past 25 years. Jean, Nicolas, Christian, Thierry, Roger, Marie Line, I know them all well. We tease each other a lot. They're the old bunch. They're still standing, just like we are. The people from the other domains sometimes look down their nose at us. It's true that we make a bit of a racket. But what else can you do? You break your back all day long and you shouldn't treat yourelf to a bit of a dance? They're jealous, in the other domains. They've all got headphones. We've got loud-speakers ! But we work hard. Pruning, picking up, pruning, picking up, all day long.
In twenty minutes it's lunchtime, what a feast ! We all gather round, we talk a lot, we flirt a bit. Before we start working again, we turn the town square into a concert hall. Not everybody's happy about this. But the domain is our home, and we can do as we please.
To Roger, Marie line, Lionel, David, Franck, Thomas, Stéphane, Christian, Jean Nicolas, Françoise, Véronique, Thierry as well as Pierre et Alexis :
Thank you.